Hello, my friends. I realize I've been absent from socializing for a while. I have a good reason, of course - my book.
Kreative Blogger Award
I want to thank MSBjaneB for awarding me the Kreative Blogger Award. I also apologize for taking so long to thank you. Please check out Jane's blog, if you have a moment.
A Writer's Muses
Jane is a writer who discusses, well, writing. I enjoy reading her posts.
I'm not going to mention more things about me or pick 10 more people. I am going to mention one blog that I find quite creative, and pass the award on to that person.
With all the fun blogs out there, it was tough, but this time I've chosen Pammy Pam
Unconventional Librarian
. I encourage everyone to take a look at her blog. You just never know what she's going to talk about, plus she reviews children's and adults' books. I love her quirkiness! Congrats to you, Pammy Pam. Please pick your favorite creative blog to pass this on to.
What's Coming to the Olympics?
I read an interesting article in the Talking crochet Newsletter about an exhibit that will be outside of London, for all you crochet enthusiasts. Here's the link: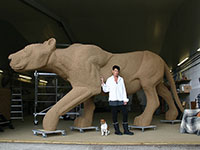 This is one of 3 lions that will be on exhibit. And they are crocheted - full size! Can you believe this? This picture is from Crochet World. Read the short article if you have a moment.
I can not imagine how much material or time it would take to make these. Think of the stuffing used...lol! Quite ingenius, I think.
Why Haven't I Commented on Your Blog?
You've probably noticed I haven't been commenting on your blog. I do apologize, but I have spent the bulk of my time editing and revising. For most of you, I'm just now catching up again. (are we ever able to stay caught up?) That said, I have had to do some organizing with commenting, and some blogs I will no longer be able to leave a comment.
I want to say a huge huge thank you to all of you who follow my blog and comment. It means so much to me, and I consider many of you as dear friends.
I would love to read and comment on every single blog out there, but that's impossible. I've tried to get to every blog I follow, but then I noticed something - not everyone comments on mine, and that's when I realized I must cut down on the number of blogs I read, or I'll never get my book published. It's time to get selfish here.
Each day, I find new blogs and comment on 3 to 5 of them. This is how I find some of the best people and blogs out there.
I am all about us creative people supporting one another, so it's important we leave comments when we can. Creative fields are lonely fields, with the 'am I really good enough to pull this off' attitude, so support is like a cool drink of water on a hot summer day. It certainly boosts our morales, doesn't it? Let's remember to PAWS for Support of one another.
I glean so much great info and have such a fun time finding blogs, and often the authors turn out to be some of my best friends. Discover some new blogs. Who knows what you'll end up reading.
Book Reviewers
Are you hoping to be published some day? You're not alone. About 150,000 books are published in the US alone in a year, and that doesn't count e-books. What's selling? What will a reviewer say about your book? What is a great new book to read?
This is why I love to read book reviews, and I read several a day. I have my favorites, and here's a list of some of my favorites (not in any particular order):
Kelly Hashway
by the way, Kelly blogs about many things, but I do love her book reviews
I want to thank ao bibliosphere for this lovely gift. It seems we both loved 'The Hunger Games.'
Thank you so very much. I will treasure it. If you haven't read the books yet, you may not understand the Mockingjay and arrow. I absolutely love this!
Isn't it wonderful?
Squidoo Lenses
Any of my Squidoo lenses will be shown on the right side, standing alone. By clicking on one, you'll be able to read that lens.
If you don't know what Squidoo is, it's a site for creating single pages of topics that interest you. It's set up a little differently from a blog or webpage, and takes some learning, but I love the site because it takes care of my need to write non-fiction articles. On top of that, the site offers challenges and quests to help you be creative. I have several more articles planned.
I tried other sites, such as Wordpress - it didn't allow me enough freedom in design, etc. and My Space (got hit on for all sorts of reasons), but Squidoo isn't at all like this.
I will warn you if you want to try Squidoo, they have rules and they enforce them in a heartbeat, so make sure you're familiar with their rules before you start writing there.
Always
I can finally see a light at the end of the tunnel. I've spent years working on this novel, and the editing/revisions are almost completed.
I want to send my thanks to Robert Bacon, founder of The Perfect Write. He is an editor that I trust, and his fees are fair. He is also a published author. He does one of the best newsletters for writers. If you have not signed up for his newsletter, you really should:
The Perfect Write
.
He will review 1st chapters for free (there is a word limit), and he reviewed mine. He caught an obvious mistake plus gave me some valuable guidance. I have written him more than once for clarification and he has kindly answered, giving me the best information.
I also must deeply thank Elizabeth Maginnis
http://desertgirlmedia.com/about/
. Elizabeth has a great deal of experience in editing too. She has helped tremendously with my book and has caught some terrible grammatical and story mistakes. Her fees are also very fair.
I
recommend
both these people for editing services. Follow them on twitter and linkdIn, and Facebook too.
Anyway, today I thought I'd post some lines from women in my book. There are 4 main female characters: April, Jesse, Telulla, and Aunt Tillie. I hope you enjoy these.
April
The book starts out where American raised 16 year old April has a crush on Simon. She stays with her British relatives every summer.
Simon doesn't like children of any age:
"Has she had another birthday? She's a spoiled child who demands my attention, which Duffy finds amusing. I dread her summer stays. The stuffed animal and chocolates will be fine. Girls seem fond of those things."
Simon's stomach jumped at the thought of April. "Keep this short, Duffy."
Dixon winked at him. "Just trust how I'll handle this. Simon, you are all April talks about. She can't wait to see you."
"Dixon, I am not amused."
Dixon turned onto a single road, pulling up in front of a white house with green trim. A white picket fence ran along the property. Someone peeped out of the window. As they got out of the jeep, April dashed out the door.
April stood tall for her age, almost equal to Simon. He noted she had developed into a strikingly attractive woman with a full figure. Threads of red wove through her brown wavy hair, which glimmered in the sunshine. Her mocha eyes sparkled with playfulness. She looked every bit a Duff.
April had started to wear a little makeup, which somehow emphasized her alluring eyes. She wore a pink summer Tee with a dragon design, jeans, and pink sneakers. Simon found it difficult to ignore the dragon on her shirt and her scent of jasmine, which she had worn for as long as Simon could remember. Today, the fragrance intoxicated him.
She ran up to Dixon and threw her arms around him.
"Uncle Dixon, I missed you so much."
"We missed you too. Aunt Jesse sent you a present." Dixon handed her a box. April opened it and pulled out a pink blouse with short puffy sleeves.
"Ooh. Please tell her I adore it. Thank you both. Pink's still my favorite color." She hugged her uncle.
April turned to Simon and hugged him tightly. He could smell nothing but her jasmine. Simon couldn't resist inhaling deeply and filling his nostrils full of the lovely scent, which weakened him. She didn't release him and Simon glanced at Dixon begging for help.
Dixon shrugged his shoulders. He had no idea how to help Simon.
Finally, Simon squeezed out of her embrace. "Hello, April. I've a gift for you too. Lester picked it out."
He handed her the bag. April clapped her hands together and jumped up and down. "Thank you, my Simon."
Dixon and Simon looked at each other, their brows raised.
"A dragon. I'm crazy about dragons! And it's pink. How very thoughtful, Simon." She pointed at the T-shirt she wore. Simon already noticed it. "And chocolates. Thank you, thank you, thank you, dear Simon." She leaned forward and kissed him on the cheek.
"What happened to Uncle Simon?" Dixon asked.
April hugged the dragon, swaying. "He's not technically my uncle and since I'm an adult, I feel I should call him Simon."
"What about Mr. Umbridge?" Dixon suggested.
"How silly. He's not a stranger."
"Indeed, how amusing," Dixon agreed.
Dixon grinned at Simon's awkwardness.
"You have more schooling, April?" asked Simon formally.
"No. I went to a private school last year and took accelerated classes. I'm on a mission here, you see."
"What sort of mission?" Simon felt even more lost than before.
"It's to help you, my Simon."
Simon kept his attention on April, ignoring Dixon.
"Help me how?" he asked, thinking he would indulge her for a moment.
"Excuse me?" asked Simon.
With several "ahems," Dixon went outdoors.
"A mission to lead you to your soul mate."
"There's no mistaking that you're a Duff. You seem to possess a high level of their genes. I'm not in the market for a relationship."
"You must accept my help. My friend Telulla explained it to me at the end of my vacation last year. She's a fortune teller," she explained nonchalantly.
"A…a fortune teller?" Simon sounded confused. He could hear Dixon snicker.
Jesse is married to Dixon, and the only one who can control his antics. She speaks with a slight French accent.
April looked at him wonderingly while her eyes moistened.
"Cannot two people say good-bye without you interfering? I will treat that cold of yours if I must," Jesse said.
"I beg you, treat me, Love. I pray to be the center of your attention at all times," Dixon responded.
"You are impossible. Enfant," Jesse snapped.
Jesse brings sanity to the group and isn't afraid to speak her mind.
Lester served the drinks as Dixon requested.
"Where's our hired servants, Jesse? Less work for you," said Dixon.
"Your parents kept only your nanny. I? I need no help. You think I am lazy or incapable?"
"Never, darling. I couldn't exist without you."
Simon rubbed his chin and appeared as if he pondered a difficult problem. Finally, he spoke.
"Dixon should hire a tiger. They function most efficiently."
"A tigre, Simon?" Jesse asked.
"With the proper apron, a tiger could make an excellent housekeeper, I daresay." He winked at Dixon.
Dixon had started to drink his brandy. He spit most out, coughed, and choked on what he had swallowed. He gasped for air.
"Mon Dieu. The two of you. Look what you caused, Simon."
Jesse rushed over and smacked Dixon rapidly on the back.
"If you hit him a might harder, it might cure him of that irritating cough."
That was all it took. Dixon snorted, gagged, and gasped even more.
Jesse pounded faster. "Drink. Drink." She glared at Simon while she continued to hit Dixon's back. "You. You are an enfant like my husband."
Dixon took her hand from his back and squeezed it. "All better now, Love." He kissed her softly.
"Enfants. What I must deal with. See, April? Men, bah." Gazing lovingly at Dixon, she cupped his face in her two hands and kissed his lips.
Simon cleared his throat.
Telulla is also 16 years old when the story begins. She comes from a long line of Wiccans.
Simon glared at Dixon. "Do not cough. Not once."
Dixon breathed deeply in and held his breath. Through tight lips, he said, "Under control."
Simon turned his attention to the young waif.
"You're Simon. I'm Telulla Moon, April's friend. She's going to lead you to love." At this, Telulla winked at him. "Aunt Tillie gave her some alone time today to be with you."
Dixon sneezed twice, which sounded like "set-up."
"Moon?" asked Simon, ignoring Dixon.
"Like…up…high." She spoke slowly again, thinking Simon dimwitted, and pointed up at the sky, then drew a circle in the air in front of her using both hands.
"Crazy old man," she murmured.
Dixon pointed at Simon's head and made a face. She nodded in agreement.
Simon whirled around to Dixon. Dixon acted as if he didn't understand why the girl made that face.
Simon tightened his jaw. "You are not helping."
"Really? I thought I was being quite helpful."
Aunt Tillie watches over Telulla and April, and neither can do wrong in her eyes.
"It's not polite to stare," said Telulla. Everyone looked at Telulla, who shoved her glasses up on her nose. She glared at Steven. Steven shrugged, and took a drink of his wine. Dixie sat silently, staring at her plate.
Dixon and Simon looked at each other, surprised.
"Telulla has adopted you too, Simon," said Aunt Tillie in a loud voice. "Seems she's got good taste in men. Lula, dear, you ever pinch anyone?"
"No, but I learn quickly."
"That's the ticket, my dear. We'll invite Dixie over to my house and she can teach you." Aunt Tillie peered at Steven. "You can tag along. We need a practice dummy."
Dixon talked out of the side of his mouth, "Watch it."
Aunt Tillie - the quirkiest of the Duffs
When the guests finished eating, James got up and walked to where the bride and groom sat. Standing between them, he spoke. "We are honored by the number of our friends and relatives who joined us for this blessed event."
Aunt Tillie yelled, "I came for the wine."
Laughter rippled around the room.
and all 4 women together:
April slowly sipped peppermint tea, her stomach churning.
"What is the matter, ma chère? Are you ill? You miss your man?"
"I miss him, Aunt Jesse. I miss him so much I'm sick."
"The desires of a husband and wife can be strong," said Jesse.
Telulla shrieked. They turned to her, surprised. Telulla stared at April, elated. She pushed her glasses up. "Don't you get it?" She looked from Jesse to Aunt Tillie. "Can't you tell?"
"Mon Dieu!"
"I'll repeat your Dieu and throw in my God," shouted Aunt Tillie, slamming her hand down on the table.
The three women stared at her.
"Oui. I see it," said Jesse.
LHR, my dear friends. PAWS for Success.